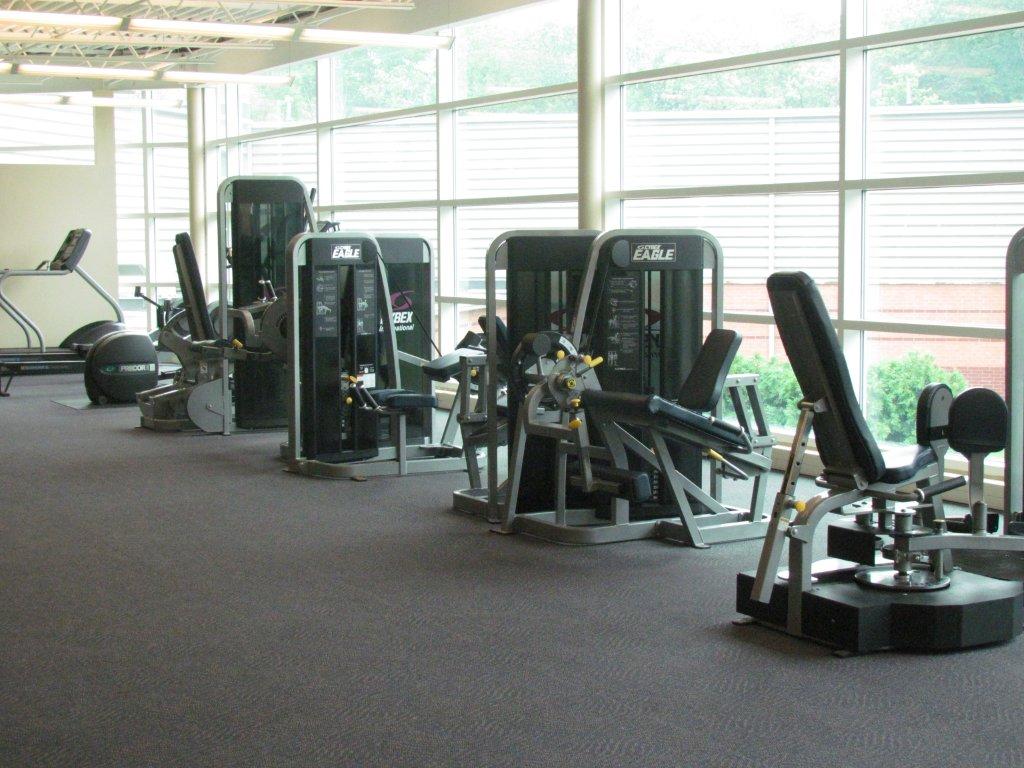 Spinning® Studio - The SCC Spinning® Studio holds 18 NXT Spinning® bikes that are used daily to provide all types of Spinning® classes for members and guests.
Free Weights - The Free Weight area is home to a wide variety of Cybex, Paramount and Troy benches, dumbbells and plates. This area is equipped with many different weight sizes and bars ranging from 5-100 pounds to accommodate member and guest fitness needs.
Fitness Floor Selectorized - Overlooking beautiful Memorial Park in Salem, the Cybex strength area offers a variety of lower and upper body selectorized weight machines to target any area of the body. Additional machines for back and abdominal strengthening are available to enhance core workouts for members and guests.
Cardiovascular Area - The cardiovascular area of the SCC Fitness Floor has something for everyone. Featured in the cardiovascular area are; Cybex ARC Trainers, a variety of Star Trac upright, recumbent and Spinning® bikes , Star Trac and Woodway Treadmills, Precor Elliptical Trainers and StairMaster Steppers. Most machines are equipped with Cardio Theater for TV viewing during a workout as well as Polar Heart Rate monitoring.
Please note that to provide a safe and clean environment, we require everyone to wear a full t-shirt with sleeves and closed toe athletic shoes at all times on the fitness floor, as well as wipe down each piece of equipment with the provided sanitary wipes.
Note: Members must be 12 years of age or older to be on the fitness floor.
Ages 12 - 14 must be accompanied by someone at least 18 years of age. Please see our Youth Fitness Certification Program.